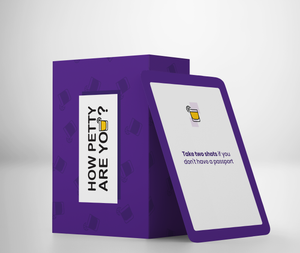 How Petty Wednesday is adapting to Covid-19
Petty Wednesday works with a fulfillment partner to print and ship our orders. We're in regular communication with them for the latest updates of what's going on. 
Our fulfillment partner is still operating and we're continuing to accept orders. Fulfillment and shipping will take longer but your order will reach you. 
Your support means a lot to us, especially during this time. Stay safe and take care of yourselves.
PETTY WEDNESDAY
Ever felt that there's more to this life than what you are living? Every felt like you could do with a bit more laughter and love than what you're feeling? If yes, you're in the right place. Petty Wednesday is all about making a difference, with content and merch that looks to bring a smile to your face and a warm fuzzy feeling that isn't just your regular spilled coffee on a clumsy Wednesday morning.
We are not all about being petty. We are about creating and curating the best content that gets you noticed and up and ready for the next one. From news snippets, gossip columns, memes, life lessons, and a whole lot more, Petty Wednesday is all you need to let go and let out that little smirk or a loud laugh every few minutes. 
We aren't done yet! We have some great merchandise that will have you looking fresh and ready to step out in style. Our cool logo's present on all of the stuff we sell, and you can take your pick from a range of products, including t-shirts, hoodies, caps, socks, e-books, and a whole lot more. Pick from a variety of awesomely designed merchandise and give your wardrobe the makeover it needs.